Director and Chief Resilience Officer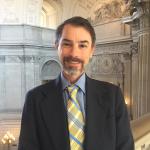 As the City's Chief Resilience Officer and Director of the Office of Resilience and Capital Planning, Brian Strong is responsible for the City's ten-year Capital Plan, its Capital Budget, and the implementation of the Resilient SF strategic vision. Brian created the City's first multi-year capital plan in 2006 and has been instrumental in the development and passage of $3.5 billion in G.O. bonds to improve San Francisco's infrastructure. Brian has implemented a number of innovative resilience programs to protect San Francisco's infrastructure including the Earthquake Safety and Emergency Response bond program; the nation's first Sea Level Rise Guidelines; and the first building-by-building HAZUS seismic assessments.
Under Brian's leadership, the Capital Planning Program received the 2011 Good Government Team Award from the Mayor's Fiscal Advisory Committee and the San Francisco Planning and Urban Research Association. He also serves as President of the Board for the San Francisco Community Investment Fund that distributes new market tax credits to disadvantaged communities.