City Administrator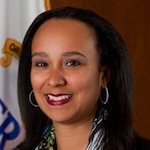 Naomi M. Kelly is San Francisco's City Administrator, one of the highest-ranking non-elected officials of the City and County. In this capacity, Ms. Kelly oversees the General Services Agency consisting of 25 departments, divisions, and programs.Ms. Kelly is strongly committed to strengthening the local economy; ensuring the efficacy of government services; increasing the City's safety and resiliency; and optimizing the City's capital planning and infrastructure. Among her many responsibilities is serving as Chair of the Capital Planning Committee, where she oversees a $35 billion, 10-year Capital Plan to realize the long-term safety, accessibility, and modernization of San Francisco's public infrastructure and facilities.
Ms. Kelly, a native San Franciscan, is the first woman and African-American to serve as City Administrator of the City and County of San Francisco. Prior to her appointment by Mayor Ed Lee in 2012, Ms. Kelly was appointed City Purchaser and Director of the Office of Contract Administration by Mayor Gavin Newsom. She previously served as Special Assistant in the Mayor's Office of Neighborhood Services and in the Office of Policy and Legislative Affairs, under Mayor Willie L. Brown, Jr. She also served as the City's Executive Director of the Taxicab Commission.
To learn more about Ms. Kelly's background and accomplishments to date, please see her full biography here.