Market Octavia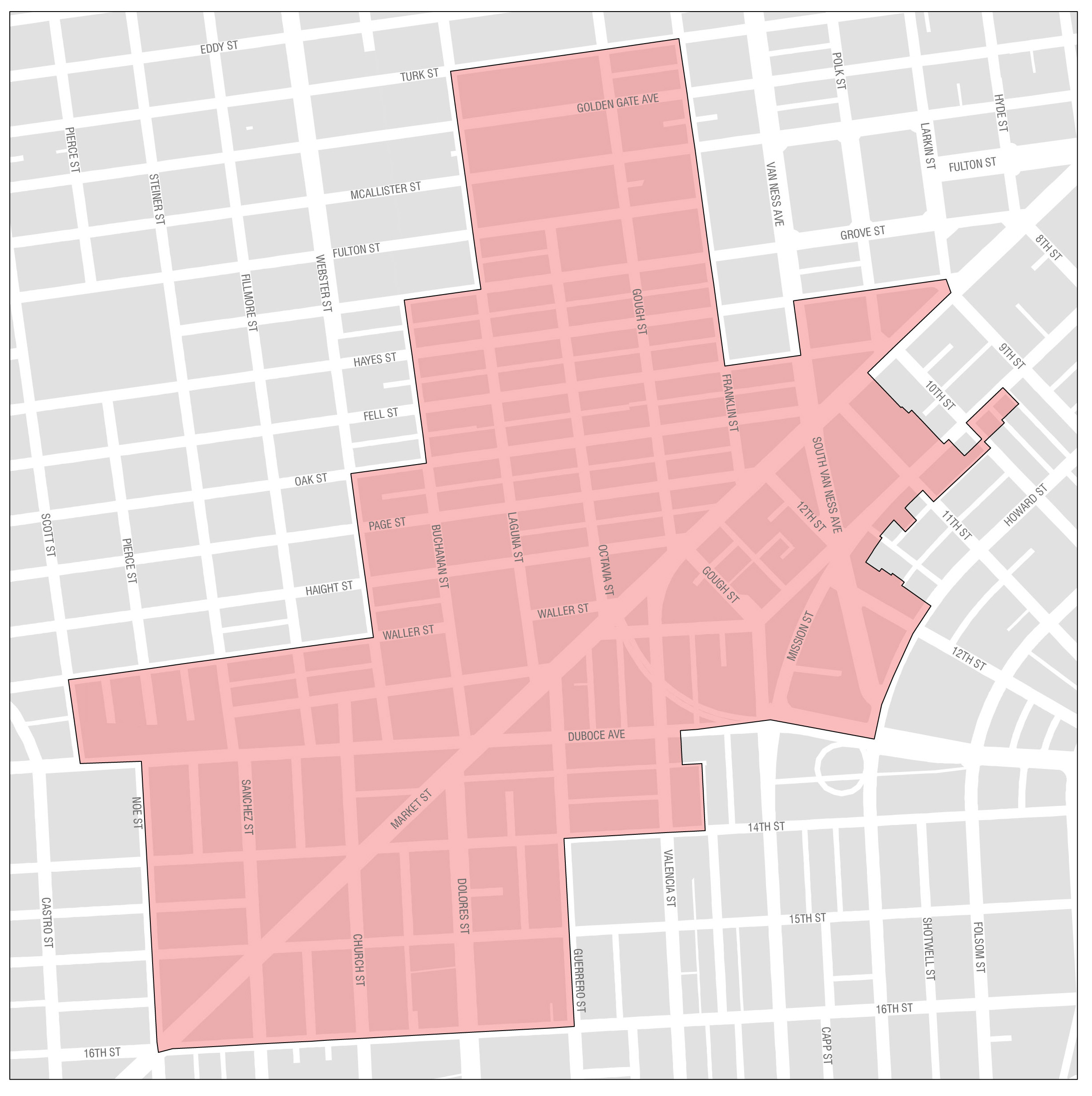 Market Octavia is located just west of the Civic Center, governmental, and cultural institutions there attract a wide range of people both day and night. Its pattern of streets and alleys make it very walkable and bikeable. More than a dozen transit lines cross the neighborhood, including all of the city's core streetcar lines. It is accessible from the entire Bay Area by BART and the regional freeway system.
Market Octavia's history as a crossroads also poses enormous challenges. Large redevelopment projects occurred in the 1960s and 1970s, and the Central Freeway bisected the neighborhood before it was demolished in 2003. Large flows of automobile traffic are channeled through the area creating hazardous conditions for pedestrians. However, its centralized location and transit accessibility make Market Octavia a key area to add new housing to the City.
The Market Octavia Area Plan identified many needs related to complete streets, transit, open space, and childcare that will provide the necessary services for new people living and working in the area. The total estimated revenues for proposed projects in Market Octavia is currently estimated at $173 million, including prior years. The following tables show the Market Octavia spending plan, sources of funds, and funding gap.
The Hub: The Planning Department is studying zoning and height limit changes in the Hub, a subset of Market Octavia, to increase housing capacity in the area by several thousand new units. An updated public realm plan was created by a multi-agency team to understand the needs of the people that live, work, and visit the area. Projects in the plan include transportation enhancements, open space improvements, and upgrades to streetscapes throughout the Hub. The Hub rezoning is expected to be approved in early 2020.
Return to Impact Fee Areas 
Key Proposed Eastern Neighborhoods Projects through 2029
COMPLETE STREETS
Better Market Street
13th St. Protected Bike Lanes
Upper Market Pedestrian Improvements
Octavia Blvd. Enhancement
Page St. Neighborway
TRANSIT
Van Ness Bus Rapid Transit
Valencia Bikeway
22-Fillmore: Duboce & Church
Muni Light Rail Expansion
Western Addition CBTP Improvements
RECREATION AND OPEN SPACE
Margaret Hayward Park Renovation
Buchanan Street Mall
Hub Open Space Improvements
SPENDING PLAN
(Dollars in Thousands)
Prior Years
FY
2020
FY
2021
FY
2022
FY
2023
FY
2024
FY 2025 - 2029
Plan Total

Complete Streets

13,478

1,101

3,085
 

1,335

3,267
 

-

-

8,788

Transit
11,540
2,976
8,976
5,630
-
-
-
17,582
Open Space
30,573
-
-
-
-
-
-
-
Childcare
3,523
-
-
-
-
-
-
-
Program Administration
2,674
369
895
1,803
151
151
453
3,823
TOTAL
61,788
4,447
12,956
8,768
3,418
151
453
30,193
 
 
 
 
 
 
 
 
 
REVENUES
 
 
 
 
 
 
 
 

Impact Fees

47,286

6,238

13,282

43,904

3,155

3,155

15,472

85,205

General Fund - Other
970
1,776
-
1,910
-
-
-
3,686
Bonds
17,390
-
-
-
-
-
-
 
Other Local
2,772
1,015
4,236
4,905
3,267
-
-
13,423
External Grants
2,112
-
-
-
-
-
-
-
TOTAL
70,530
9,029
17,518
50,719
6,422
3,155
15,472
102,314
 
 
 
 
 
 
 
 
Cumulative
Annual Surplus (Deficit)

8,742

4,583
4,562
 41,950
3,004
3,004
15,019
80,863