Mayor London N. Breed and Board of Supervisors President Norman Yee created the COVID-19 Economic Recovery Task Force. The Task Force was co-chaired by San Francisco Assessor-Recorder Carmen Chu; San Francisco Treasurer José Cisneros; Rodney Fong, President and CEO of the San Francisco Chamber of Commerce; and Rudy Gonzalez, Executive Director of the San Francisco Labor Council.

The Task Force was charged with guiding the City's efforts through the COVID-19 recovery to sustain and revive local businesses and employment, mitigate the economic hardships already affecting the most vulnerable San Franciscans, and build a resilient and equitable future.
For more information about the Task Force membership, please see here.
For Task Force meeting materials and documents, please see here.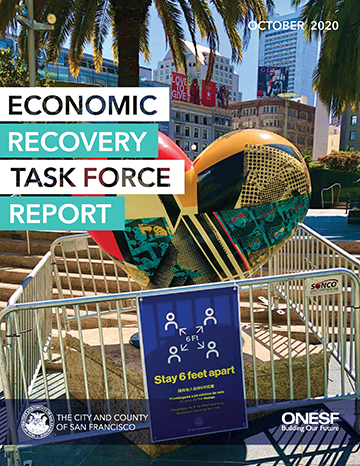 Economic Recovery Task Force Report
From April to October 2020, the full Task Force met monthly and participated in many smaller working group meetings. Through this process, the Task Force developed 41 policy recommendations that represent the best thinking of this diverse group, informed by the experience of Task Force members, research from city staff, as well as input from communities across San Francisco through surveys and focus groups.

The Task Force helped to propose ideas to support the City during the pandemic and worked with City staff to vet solutions and interventions for re-opening and economic recovery, including the Reopening Plan and Shared Spaced Program.
The policy recommendations developed by the Task Force lay the groundwork for an equitable and sustainable recovery that builds on our strengths and addresses those sectors and populations most significantly impacted by the pandemic, such as those in the hospitality, entertainment, food services, and personal services industries.

The recommendations from the Task Force's four policy groups are organized into eight major themes:
Local Economic Stimulus: explore policies and investments that encourage economic development and activity in San Francisco, such as funding public infrastructure projects, streamlining permitting processes, advocacy for state and federal resources, and more
Job Connections: facilitate and improve connections to jobs and explore programs that hire local workers
Promote Safe Reopening: provide clear and accessible information to businesses and workers on reopening requirements and provide tools and strategies to keep workers, customers, and residents safe
Preserve Operations and Lessen Regulatory Burdens: create flexibility for businesses to operate and consider reducing or eliminating regulatory burdens
Pursue Economic Justice: narrow the wealth gap and bridge the digital divide for low-income residents and communities of color
Invest in Housing: incentivize the construction of affordable housing, an immediate and long-term need
Meet the Basic Needs of the Vulnerable: ensure San Franciscans have access to food, shelter, mental health, and other services
Imagine and Build Stronger Neighborhoods: activate and draw upon San Francisco's unique neighborhood and cultural assets
Download the full report in English, Spanish, Chinese, and Filipino from the links below.
APPENDIX B:
Shared Spaces
APPENDIX C:
Policy Development
APPENDIX D:
Community Engagement and Listening
APPENDIX E:
Detailed Recommendations
APPENDIX F:
City Recovery Efforts