03. Accomplishments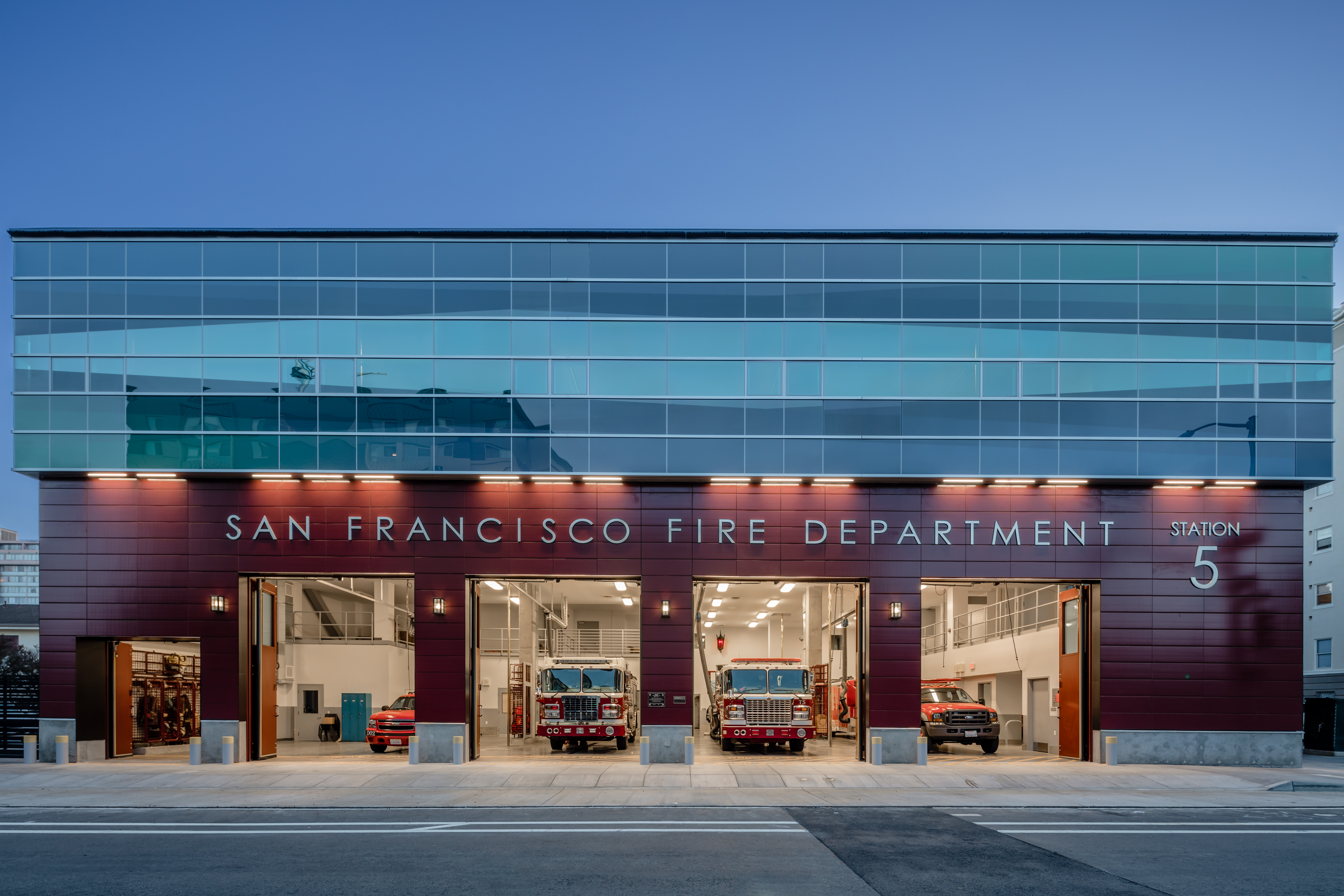 Public Safety
San Francisco Fire Department
Completed permitting, CEQA review, and substantial construction on the seismic improvement and station replacement project at Fireboat Station 35 at Pier 22 1/2.
Opened seismically-renovated Stations 5 (Fillmore District) and 16 (Marina District).
Exterior envelope improvements completed at Stations 8, 20, and 29, with design work underway for additional stations.
Roof replacement projects underway at Stations 11, 22, and 21 with work scheduled to be completed in early 2021. As part of the roof replacement project, Hose Tower removal is underway at Stations 6, 11, 12, 21, and 38.
Shower improvements at stations 17, 19, and 33 have been completed.
Completed all apparatus bay door replacements from focused-scope project in 2020.
Completed generator replacement at Station 31. Design and permitting underway for emergency generator replacement projects at Stations 2, 14, 18, 19, 37, and 44.
Advanced Emergency Firefighting Water System (EFWS) projects in collaboration with the Public Utilities Commission by completing construction on Pump Station 1 and seismically improving and/or replacing pump stations, reservoirs, tanks, pipes, and tunnels. Work on Pump Station 2 has begun with anticipated completion in late 2020 or early 2021.
Completed substantial construction on the new seismically safe Ambulance Deployment Facility located at 2241 Jerrold. Completion is anticipated for early 2021.
San Francisco Police Department
Completed New Firearms Simulation Training Facility construction.
Advanced mechanical, electrical, plumbing work at Bayview, Richmond, Taraval, Tenderloin Stations.
Near finalization on Park and Ingleside Police Station renovations.
Paving project proceeding at Academy.
Range Maintenance underway for expansion of operational capacity.
Weather proofing underway at Potrero station.
Other Public Safety Accomplishments
Funded the renovation of the County Jail #2 kitchen. Construction is halfway to completion. Completion will allow the kitchen at County Jail 4 (7th floor of the Hall of Justice) to be closed.
Completed the Sheriff's Department Facilities Master Plan, documenting current and future capital needs across its jails and
other facilities.
Identified and cost-estimated improvements for County Jail #2 and County Jail #6, including space allocation alternatives to support modern facilities.
Completed Sheriff's Department Infrastructure Improvement Study which identified operationally critical requirements.
Closed County Jail #4 to inmate housing and re-assigned inmates to the remaining County Jail #2 and County Jail #5 in San Bruno (renumbered, County Jail #3).
Extensive repairs to the County Jail #2, extending the life span of the roof for approximately 2-3 more years before a full roof replacement is necessary .
Completed an electronic security system throughout County Jail #2. This project updates a failed analog system to a fully integrated digital system.
Construction of juvenile probation entry ramp. Work included modification to existing structure, mechanical and plumbing drainage systems, and architectural systems related to ramp project.
Completed restroom remodel included renovations for ADA Compliance resulting in three pairs of accessible male/female restrooms serving the public on each occupied floor of the Administration Building.