03. Accomplishments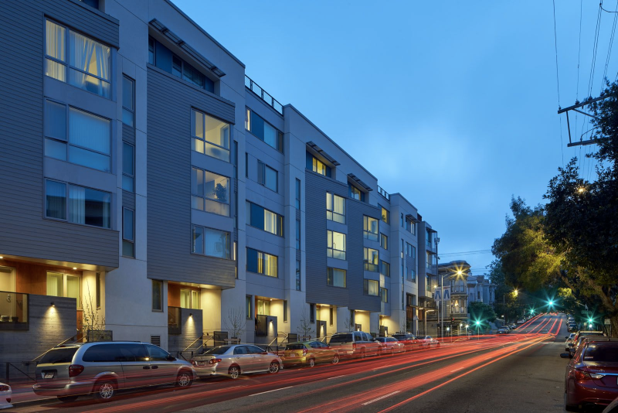 Affordable Housing
Neighborhood Development and Affordable Housing
Met the goal of producing and preserving 10,000 affordable units by 2020.
As of Q3 2020, 1,206 100% affordable multifamily rental units are under construction under MOHCD sponsorship, with another 2,051 units in active predevelopment (pre-entitlement or permitting) and 157 units leasing up. This represents 3,414 units in active new affordable housing production.
Of the active new affordable housing in production, 1,139 units are supportive housing units for families, adults, seniors, transitional aged youth and veterans. 100% supportive projects that are under construction include Maceo May (see below), 1064-1068 Mission Street, and Mission Bay Block 9.
Preserved 52 small and large sites totaling 543 residential units and 39 commercial units.
Over the past two fiscal years, completed construction on 596 affordable units at OCII's planned enhancement projects (Mission Bay, Transbay, and Shipyard/Candlestick) with funding for 415 units coming directly from OCII. Newly completed affordable units are housing approximately 1,800 people.
1,300 of the 5,900 units in Mission Bay are being developed as affordable housing. Construction is 91% complete.
In Zone 1 of the Transbay Project Area, 720 units are being developed as affordable housing with an additional 300 affordable units of affordable in the development pipeline.
Completed over 100 affordable housing units in Hunters Point Shipyard Phase 1.
Completed the first four phases of the Alice Griffith HOPE SF public housing revitalization project in Candlestick Point, housing all the original residents of the site for a total of 337 homes.
Sunnydale Parcel Q completed 55 units with 41 right-to-return units.
At the end of FY2020, 231 affordable units were under construction in Mission Bay South and Transbay.
OCII approved $95.5 million in predevelopment and construction funding toward the development of 626 affordable units in Mission Bay South and Hunter Point Shipyard Phase 1.
Planning Department
Secured financing and broke ground on 100% affordable Maceo May Apartments. The project will feature modular construction and be ready for occupancy in 2022. The 105-unit project is a collaboration between co-developers Chinatown Community Development Center (Chinatown CDC) and Swords to Plowshares (a nonprofit supporting veterans) and will include deep supportive services for its occupants.
Adopted the Balboa Reservoir Site Development Agreement which will include 550 units of affordable housing, including educator housing.
Treasure Island Development Authority
Broke ground on the first 100% affordable housing building on Treasure Island in August 2020.
Secured grants of $20 million for affordable housing and transportation improvements in the past two years.