Eastern Neighborhoods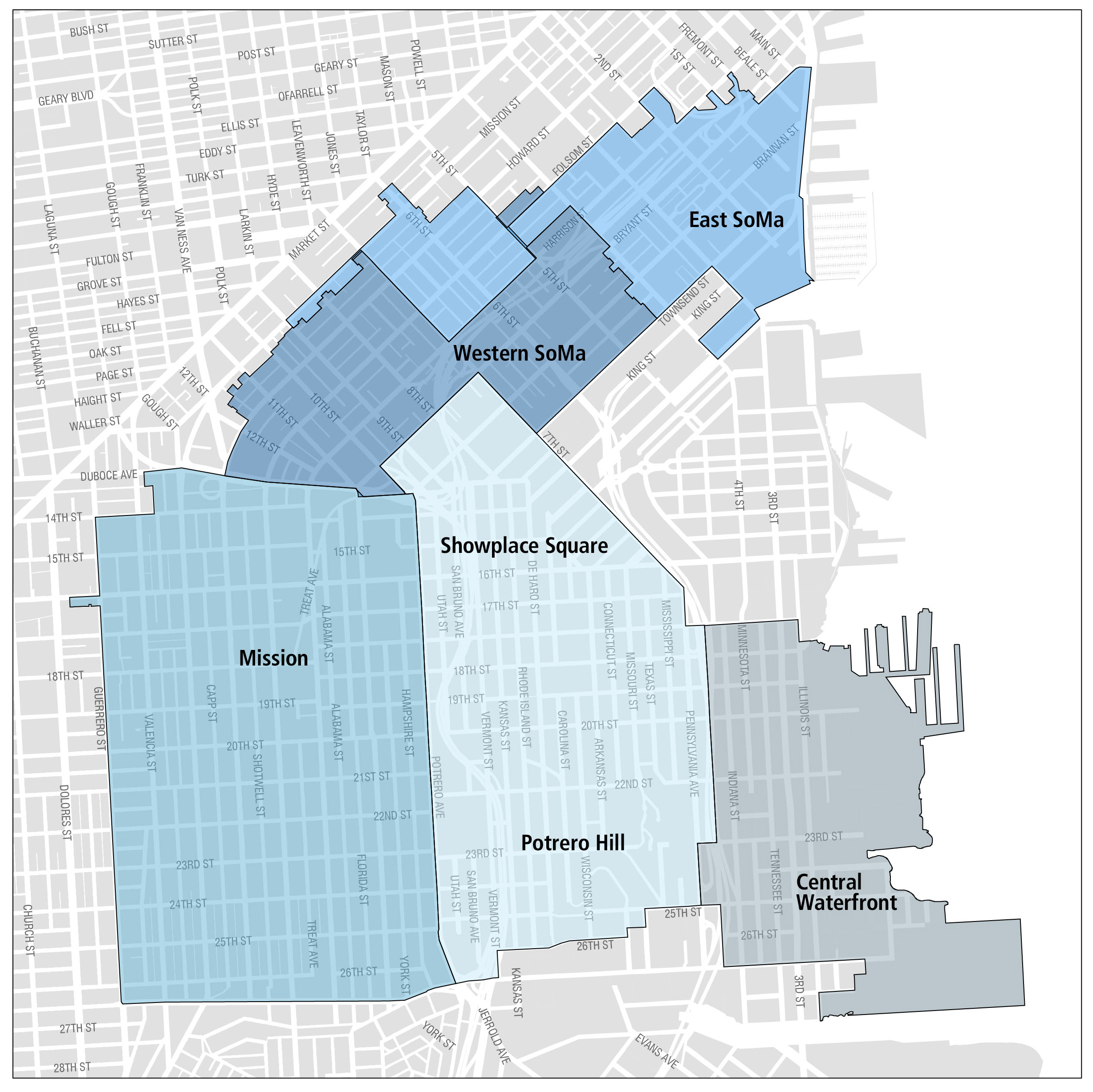 The Eastern Neighborhoods Area Plan consists of several smaller neighborhoods, including South of Market, the Mission, Showplace Square, Central Waterfront, and Potrero Hill. Much of the land use in the Eastern Neighborhoods was historically dedicated to industrial uses, and production, distribution, and repair. Over time, residential and commercial uses began to compete for space with the previous industrial uses.
In 2010, population in the Eastern Neighborhoods Plan Area was 83,930. The Planning Department projects the population to reach 149,570 by 2040, an increase of 78%. The demand for infrastructure related to complete streets, transportation, and open space increased as the population in the neighborhood began to grow. Since the Eastern Neighborhoods Area Plan was initiated in 2008, the City has worked with the community to identify priority projects for implementation. These priorities include a number of projects from the 2008 Area Plan as well as new projects identified through planning efforts that occurred since the Plan was adopted.
The revenues estimated for projects in Eastern Neighborhoods is approximately $431 million, including prior years. The tables on the following page show the Eastern Neighborhoods spending plan, sources of funds, and funding gap.
Central SOMA: The vision of the Central SoMa Plan is to create a social, economic, and environmentally sustainable neighborhood by 2040, with space for approximately 32,000 new jobs and 8,600 new housing units. The Plan will provide public benefits to serve the neighborhood, including affordable housing, transportation, streets improvements, parks and recreation, schools, environmental sustainability, and community services. Funding for these projects will come from new and existing impact fees, Community Facilities District special tax revenues, direct provision by developers, and various other sources.
Key Proposed Eastern Neighborhoods Projects through 2029
COMPLETE STREETS
2nd Street Streetscape
Folsom/Howard Streetscape
Mariposa Bike Connection
5th Street Bike Strategy
6th Street Improvements
TRANSIT
16th Street Improvement Project
27-Bryant Tenderloin Project
14-Mission: Spear to 11th
14-Mission: Outer Mission Mission Bay Loop
RECREATION AND OPEN SPACE
Gene Friend Recreation Center
Crane Cove Park
Potrero Hill Recreation Center
New 11th & Natoma Park
Garfield Aquatic Center
Warm Water Cove
SPENDING PLAN
(Dollars in Thousands)
Prior Years
FY
2020
FY
2021
FY
2022
FY
2023
FY
2024
FY 2025 - 2029
Plan Total

Complete Streets

61,572

9,095

48,604

5,520

-

-

-

63,219

Transit
56,357
38,624
18,377
6,895
2,360
3,040
-
69,296
Open Space
74,327
3,000
4,100
-
-
500
-
7,600
Childcare
5,534
510
371
685
526
444
2,200
4,736
Program Administration
5,152
856
555
528
405
996
2,025
5,365
TOTAL
202,941
52,085
72,007
13,628
3,291
4,980
4,225
150,216
 
 
 
 
 
 
 
 
 
REVENUES
 
 
 
 
 
 
 
 

Impact Fees

97,879

9,828

15,083

9,138

5,618

4,386

40,670

84,723

General Fund - Other
13,815
13,316
6,604
-
-
-
-
19,920
Bonds
75,410
19,247
18,929
-
-
-
-
38,176
Other Local
7,440
8,005
32,640
3,130
-
-
-
43,775
External Grants
25,944
6,000
5,093
6,895
2,360
3,540
-
23,888
TOTAL
220,488
56,397
78,349
19,163
7,978
7,926
40,670
210,483
 
 
 
 
 
 
 
 
Cumulative
Annual Surplus (Deficit)
17,547
4,312
6,342
5,535
4,687
2,946
36,445
77,814