Renewal Program
The overall renewal needs for the City's General Government facilities total $536 million over the next 10 years. Given funding constraints, the Plan allocates $171 million from the General Fund to meet these needs, as shown in Chart 7.1.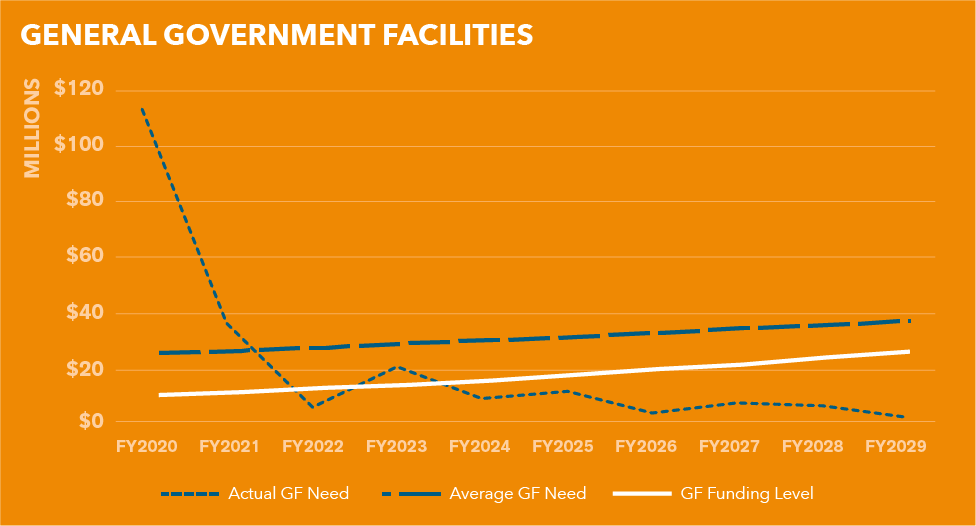 Of note in this service area renewal's are the significant ongoing needs at the Moscone Convention Center. Some of these renewals will be funded by the Moscone Expansion District hotel assessment; this contribution starts at 1% of funds collected in the first 10 years (approximately $200,000 per year) and grows to 6% thereafter (approximately $1 million per year). The Convention Facilities Fund will provide an additional $30 million towards renewals over the next 10 years. Priority renewal needs identified at this time total $13.1 million from FY2020 through FY2023.
Approximately $30 million in facility renewal needs have been identified for Yerba Buena Gardens over the next 10 years. Capital reserves and anticipated revenues supplemented by Central SoMa Community Facilities District funds in the future are expected to be sufficient to fund these costs. Major renewals will include roof and elevator repairs, open space restorations, and waterproofing work, among others.
Another important piece of the ADM renewal program is San Francisco's City Hall, managed by RED. In 2015 San Francisco City Hall held a community celebration marking the 100th anniversary of the building's opening. While a number of capital improvements have been made, additional improvements are required to keep the building in condition befitting its landmark status.