Central SOMA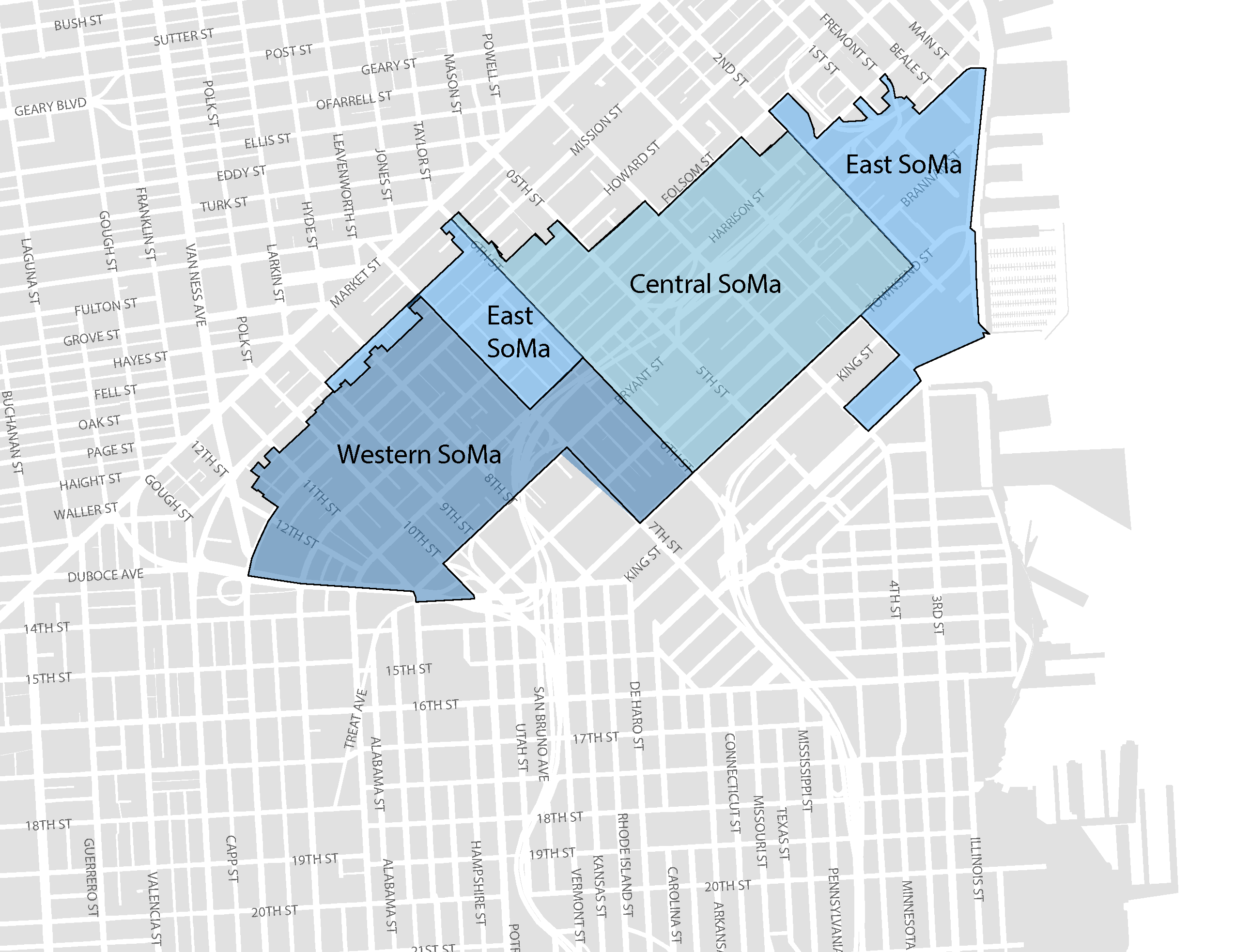 The Central SoMa Plan Area runs from 2nd Street to 6th Street, Market Street to Townsend Street, exclusive of those areas that are part of the Downtown Plan. It is an "Eastern Neighborhoods Plan" comprised entirely of areas formerly part of the East SoMa Plan Area and Western SoMa Plan Area. It is a neighborhood with an incredible history and a rich, ongoing, cultural heritage. As it grows and evolves over the next 25 years, Central SoMa has the opportunity to become a complete, sustainable, and vital neighborhood without losing what makes it special and unique today.
The vision of the Central SoMa Plan is to create a social, economic, and environmentally sustainable neighborhood by 2040, with space for approximately 32,000 new jobs and 8,600 new housing units. The Plan is expected to result in up to $2.2 billion in public benefits to serve critical needs of the neighborhood, including affordable housing, transportation, streets improvements, parks and recreation, schools, environmental sustainability, and community services. Funding for these projects will be derived from a combination of new and existing impact fees, Community Facilities District special tax revenues, direct provision by developers, and various other sources of funding. These funds will be received as development occurs in the Plan Area over the next 25 years.
The revenues estimated for projects in SoMa is approximately $261 million, including prior years. The tables on the following page show the SoMa spending plan, and sources of funds.
Key Proposed Central SOMA Projects through 2031
Complete Streets
Folsom/Howard Streetscape 
2nd Street Improvements
5th Street Bike Strategy
6th Street Improvements
Transit
27-Bryant Tenderloin Project
14-Mission: Spear to 11th
Recreation and Open Space
Gene Friend Recreation Center Rebuild
New 11th & Natoma Park
Gene Friend Pool Annex / 88 Bluxome
Bluxome Street Linear Park
Under Freeway Parcel Open Space(s) 
Spending Plan

Prior Years

FY 2022

FY 2023

FY 2024

FY 2025

FY 2026

FY 2027 - 2031

Plan Total

 

(Dollars in Thousands)

 
 
 
 
 
 
 
 
 

DEFERRED

Complete Streets

23,667 

32,495 

4,000 

14,310 

15,000 

4,527 

8,560 

78,892 

 

Open Space

36,810 

100 

3,249 

100 

100 

100 

4,325 

7,974 

 

Transit

35,858 

6,278 

18,057 

17,946 

4,816 

 

12,070 

59,167 

 

Childcare

1,145 

415 

1,037 

3,833 

524 

4,028 

740 

10,577 

 

Program Administration

3,695 

500 

500 

300 

400 

500 

810 

3,010 

 

TOTAL

101,175 

39,788 

26,843 

36,488 

20,840 

9,155 

26,505 

159,619 

 

REVENUES

 
 
 
 
 
 
 
 
 

External Grants

6,000 

6,716 

4,000 

-

1,769 

-

-

12,485 

 

General Fund - Other

-

-

9,549 

500 

1,040 

-

-

11,089 

 

Impact Fees

86,621 

31,714 

7,704 

19,649 

17,984 

6,932 

26,505 

110,488 

 

In-Kind

-

-

-

12,000 

-

-

-

12,000 

 

Other Local

8,554 

1,358 

5,590 

4,339 

47 

2,223 

-

13,557 

 

TOTAL

101,175 

39,788 

26,843 

36,488 

20,840 

9,155 

26,505 

159,619