Eastern Neighborhoods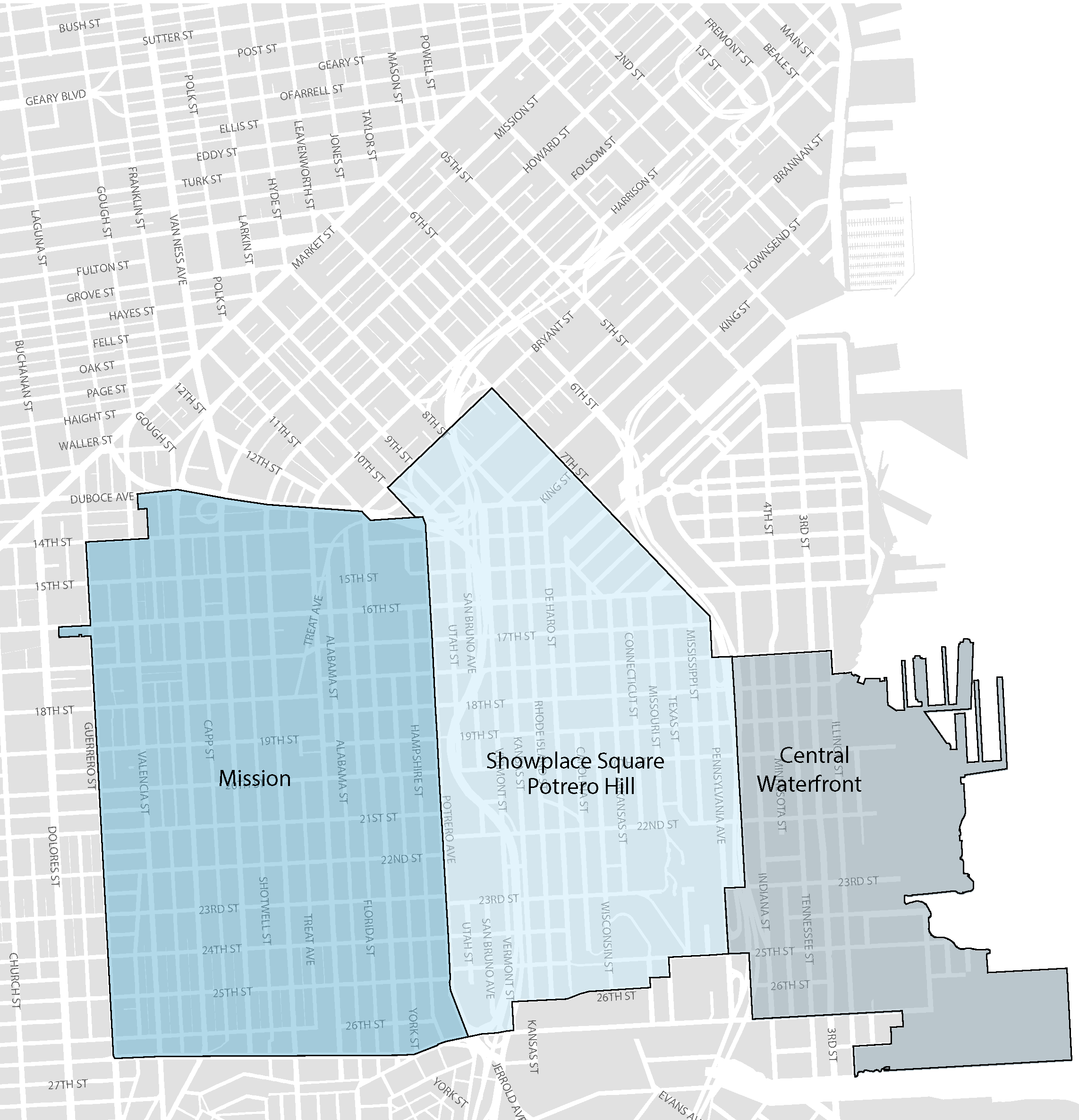 The Eastern Neighborhoods Area Plan consists of several smaller neighborhoods, including the Mission, Showplace Square, Central Waterfront, and Potrero Hill. Much of the land use in the Eastern Neighborhoods was historically dedicated to industrial uses, and production, distribution, and repair. Over time, residential and commercial uses have grown. In 2010, population in the Eastern Neighborhoods Plan Area was 83,930. The Planning Department projects the population to reach 149,570 by 2040, an increase of 78%.
With the increase in population has also come an increase in demand for infrastructure related to complete streets, transportation, and open space. Since the Eastern Neighborhoods Area Plan was initiated in 2008, the City has worked with the community to identify priority projects for implementation. These priorities include a number of projects from the 2008 Area Plan as well as new projects identified through planning efforts that occurred since the Plan was adopted.
The revenues estimated for projects in Eastern Neighborhoods is approximately $466 million, including prior years. The tables on the following page show the Eastern Neighborhoods spending plan, sources of funds, and funding gap.
Key Proposed Market Octavia Projects through 2031
Complete Streets
Mariposa Bike Connection
Minnesota / 25th Street Improvements
(Minnesota Grove)
17th Street / Vermont / San Bruno Improvements ("The Loop")
Treat Plaza
Transit
16th Street / 22-Fillmore Improvement Project
14-Mission: Outer Mission - Mission Bay Loop
Recreation and Open Space
Crane Cove Park
Garfield Aquatic Center
Warm Water Cove
Jackson Park Renovation
Esprit Park Renovation
Juri Commons Park Renovation
Franklin Square Improvements
Eagle Plaza
Spending Plan

Prior Years

FY 2022

FY 2023

FY 2024

FY 2025

FY 2026

FY 2027 - 2031

Plan Total

 

(Dollars in Thousands)

 
 
 
 
 
 
 
 
 

DEFERRED

Complete Streets

68,403 

3,118 

2,241 

2,634 

875 

6,985 

4,155 

20,008 

15,100 

Transit

117,764 

-

1,000 

-

-

5,949 

6,370 

13,319 

10,500 

Open Space

103,793 

29,730 

60,712 

35,433 

5,232 

-

1,345 

132,452 

 

Childcare

2,914 

-

-

44 

35 

230 

680 

989 

 

Program Administration

4,285 

500 

130 

335 

62 

177 

705 

1,908 

 

TOTAL

297,159 

33,348 

64,083 

38,446 

6,204 

13,341 

13,255 

168,677 

25,600 

REVENUES

 
 
 
 
 
 
 
 
 

Bonds

133,313 

-

-

-

-

-

-

-

 

External Grants

30,951 

-

4,000 

-

-

-

-

4,000 

 

General Fund - Other

14,908 

3,884 

2,800 

27,555 

-

-

-

34,238 

 

Impact Fees

67,251 

2,534 

3,621 

3,013 

971 

13,341 

13,255 

36,735 

 

Other Local

50,736 

26,930 

53,662 

7,879 

5,233 

-

-

93,703 

 

TOTAL

297,159 

33,348 

64,083 

38,446 

6,204 

13,341 

13,255 

168,677