Sea Level Rise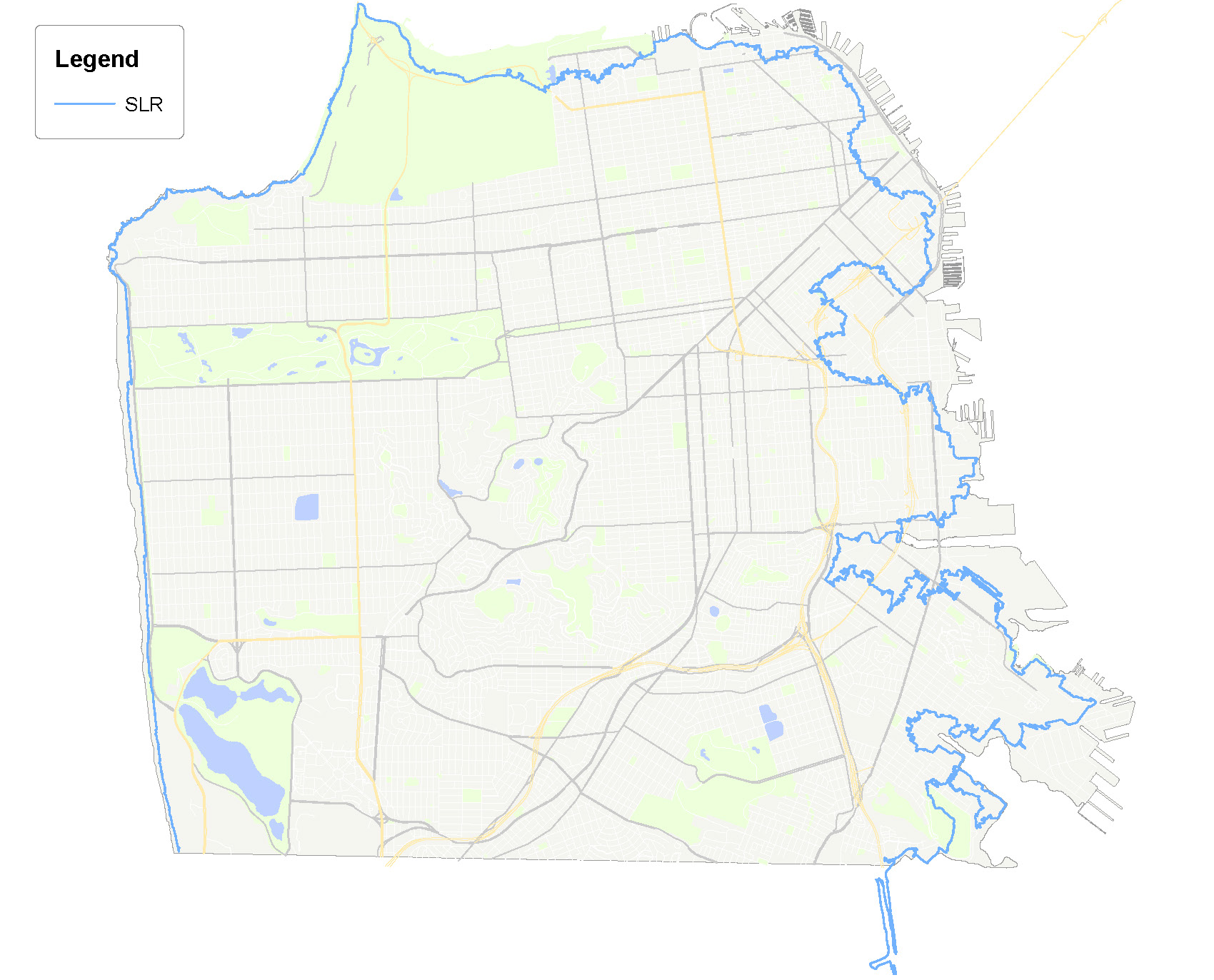 Sea level rise may be a slow-moving threat, but San Francisco recognizes that it demands action now. Climate change is accelerating the rate at which oceans are rising, and our lower-lying shoreline areas are increasingly exposed to flood waters. San Francisco is committed to planning for and adapting to the anticipated effects of climate change. 
By 2100, the National Research Council projects most likely sea level rise of 36 inches. In the event that land ice melting accelerates beyond current conditions, estimates through 2100 project as much as 66 inches of sea level rise. A combination of storm surge and king tides adds 40 inches to that upper estimate, for a potential rise of up to 108 inches in water levels by 2100. For long-lasting planning, it is this most severe scenario that is depicted in the Vulnerability Zone map. 
Proactive adaptation planning will allow San Francisco to minimize risks and meet the challenges posed by rising seas. To that end, San Francisco has convened an interagency committee ("SLR Coordinating Committee") of 13 City departments to develop a Sea Level Rise Action Plan ("SLR Action Plan"). The SLR Action Plan highlights the risk to both public and private assets, as well as the complex regulatory environment that governs coastal planning and development activities. It identifies actions that San Francisco can take now and in the near future to meet the challenge of rising seas. Implementation of the SLR Action Plan will ultimately culminate in a Citywide Adaptation Plan, which will guide the allocation of resources towards policies and projects that will improve San Francisco's resilience as sea levels change.
The visionary goals of the SLR Action Plan speaks to San Francisco's commitment to equitable resilience planning. The City is mindful of the disproportionate impact disaster can have on our most vulnerable communities. When finalized, the Citywide Adaptation Plan will lay the groundwork for an adaptable city that recognizes and protects social as well as physical and economic value. It will help communities to participate in comprehensive planned response to sea level rise so that they are empowered to support efforts over the long term. Dependable and actionable information, transparency, and a common understanding of the shared responsibilities between public, private, and community interests will all be important for effective response.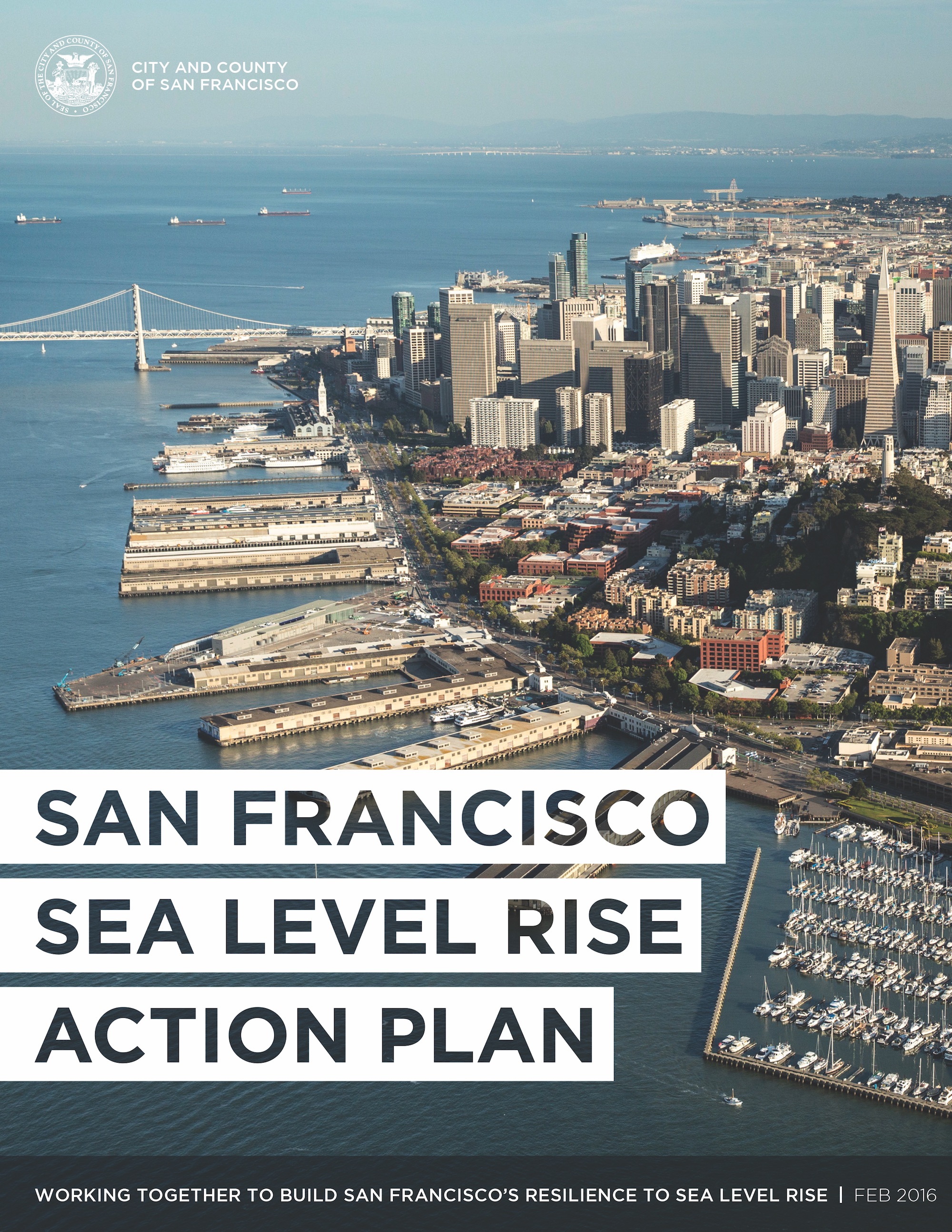 As the Citywide Adaptation Plan is developed, the City has already adopted technical guidance for incorporating sea level rise planning into its capital planning. Approved by the Capital Planning Committee in 2014, this guidance establishes a consistent review, planning, and implementation process for projects in the Vulnerability Zone. Departments are expected to identify and map project sites to check whether they fall within the Vulnerability Zone, fill out a checklist for all projects over $5 million funded within the next 10 years, and submit for review by the Capital Planning Committee and the City Engineer. Prior to their inclusion in either a budget cycle or the Capital Plan, each project's strategies for addressing sensitive and adaptive capacity are reviewed. Major waterfront projects incorporating innovative adaptive management include Hunters Point Shipyard, Candlestick Point, Crane Cove Park, and Mission Rock, as well as Treasure Island and the Ocean Beach Master Plan. 
Vulnerability assessments for the Port, SFO, and PUC are underway. SFO has already launched its Shoreline Protection Program to protect the airport from extreme tide and storm flooding risks in the near term, as well as long-term flooding risks from sea level rise. Assessments for SFMTA, parks and open space, and other City buildings and properties are still needed and expected to be completed as part of the Citywide Adaptation Plan development. Public property in the Vulnerability Zone has been catalogued across City agencies. 
Recognizing that San Francisco cannot fully address the threats posed by climate change and sea level rise in a vacuum, the City has engaged in numerous collaborative preparation and adaptability efforts. 
San Francisco is participating in the Bay Area Resilient by Design Challenge. Expected to launch in 2017, the challenge will unite interdisciplinary design teams to work in collaboration with communities to identify solutions to vulnerable locations on the bayside waterfront. Architects, designers, ecologists, engineers, and community leaders will create a blueprint for preparation to serve as a model for cities around the world. 
Additional regional efforts include the Coastal Hazards Adaptation Resilience Group, Adapting to Rising Tides, the Rockefeller 100 Resilient Cities Challenge, the Bay Area Ecosystems Climate Change Consortium, the Bay Area Regional Collaborative, the Climate Readiness Institute, Plan Bay Area, and Our Coast Our Future.